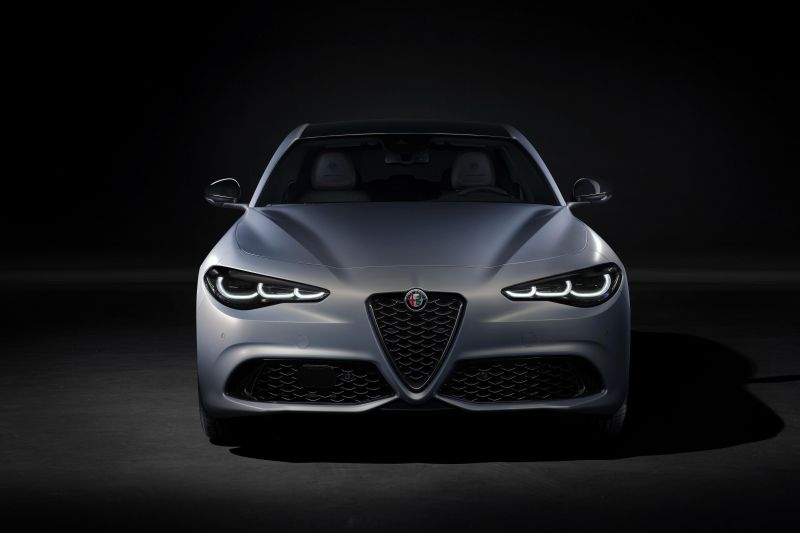 Step into a world where speed, power, and sheer exhilaration await you at every turn. The 2023 Alfa Romeo Giulia continues the legacy of the iconic brand, renowned for creating vehicles that ignite the senses and leave an indelible mark on the road. But it's not just about appearances; the 2023 Giulia is a performance-focused masterpiece engineered to deliver heart-pounding thrills. The Giulia springs to life when you press your foot on the pedal, effortlessly harnessing its power to propel you forward with breathtaking speed. 
Inside the cabin, you'll discover a sanctuary of luxury and craftsmanship, where every detail has been carefully considered to create an atmosphere of refined elegance. But don't take our word for it—experience the 2023 Alfa Romeo Giulia firsthand at the Champion Alfa Romeo dealership in Downey, CA, near San Diego and Los Angeles. This dealership offers a vast selection of new Alfa Romeo inventory, including the highly coveted 2023 Giulia. And the best part? The Champion Alfa Romeo dealership offers new finance specials, and even after you drive off the lot in your dream car, rest assured that the Alfa Romeo service center is at your disposal. So why wait any longer? It's time to take the 2023 Alfa Romeo Giulia for a spin and discover the perfect balance of innovation, performance, and efficiency. 
The 2023 Alfa Romeo Giulia sets the standard for performance and engine.
This coveted premium sedan is a testament to Alfa Romeo's mastery, meticulously crafted with decades of expertise to captivate your senses. As your eyes trace every exacting line, bend, and groove, you can't help but marvel at the 2023 Alfa Romeo Giulia's exquisite exterior. A nod to its racing heritage, the scudetto shield-style grille proudly adorns the front, accentuating its svelte and sinuous appearance. 
Beneath the hood lies the heart and soul of the Giulia: a 2.0-liter turbocharged inline-four engine that unleashes a mighty 280 horsepower. But power is nothing without control, and that's where the Q4 technology comes into play. This innovative system equips Giulia with the ability to conquer adverse weather conditions. With active transfer case technology, the Q4 AWD System continually assesses the road to ensure stability and maneuverability. 
But the Giulia doesn't just offer power and performance; it caters to your driving preferences. You can choose three driving styles with its class-exclusive DNA Drive Mode Selector. Engage Dynamic Mode, and experience a symphony of sharper throttle and enhanced steering input. 
Safety is a cornerstone of Alfa Romeo's philosophy, and the 2023 Giulia leaves no stone unturned when protecting its occupants. This luxury sport sedan has a range of guided driver-aid safety technologies, such as lane departure warning, adaptive cruise control, blind-spot monitoring, and automatic emergency braking. The Giulia provides a reassuring cocoon of security. Feel confident and at ease as you navigate the roads, knowing that Alfa Romeo has your back.
Alfa Romeo will offer luxurious interior packages for the 2023 Alfa Romeo Giulia.
Step inside the Alfa Romeo Giulia, and you'll instantly be enveloped in a world of Italian craftsmanship and sophistication. This premium sedan is not just a car; it's an immersive experience designed with the driver's comfort as the top priority. Every detail whispers luxury from the moment you settle into the supple leather seats. Feel the smooth touch of walnut wood accents and brushed aluminum, elegantly arranged to highlight the wireless charging pad and rotary media controller. The tantalizing scent of genuine leather fills the air as it graces the upper dashboard, door panels, and even the Alcantara® Sparco® racing-style trim. For those seeking a dash of boldness, the optional red leather trim adds a touch of sportiness to the mix. Sink into the heated seats, meticulously engineered for ultimate comfort and ergonomic support, with adjustable reclines for that perfect driving position.
But this luxury sedan's allure goes beyond its exquisite materials. It's a technological marvel as well. The 8.8-inch Multi-Touch Display takes center stage, captivating drivers and passengers with its sleek design and intuitive interface. Seamlessly integrated with wireless CarPlay, Amazon Alexa, and Android Auto, this immersive display brings the world to your fingertips, ensuring a connected and luxurious driving experience. And for the discerning audiophile, the optional 14-speaker Harman/Kardon audio system delivers a symphony of sound, enveloping you in rich, immersive music as you navigate the open road.